The Klipsch C-Series subwoofer range is now available in the UK through Henley Audio.
Klipsch has launched a new compact, install-friendly subwoofer range that promises to deliver true low-end power to any system. Moreover, the new range hands you complete control over the performance.
The Klipsch C-Series subwoofers are high powered, ultra-compact devices with front-firing Cerametallic woofers and side-firing piano gloss passive radiators for optimised output and low-frequency extension.
The series consists of two models that are approximately 30% smaller in size than average subwoofers, while still delivering the same output and low-frequency power as much larger products.
The Klipsch C-310ASWi subwoofer (SRP £1,500.00) is powered by an 800W BASH digital hybrid amplifier, has three 10-inch drivers and measures just 13-inches cubed. Additionally, its smaller stablemate, the C-308ASWi subwoofer (SRP £1,250.00), is powered by a 600W digital hybrid amplifier, has three 8-inch drivers, and is an 11-inch cube.
The ultra-compact cabinets and elegant piano gloss finish ensure the subwoofers blend seamlessly into any environment by looking like a premium addition to your home.
Absolute control is guaranteed in the C-Series subwoofers thanks to the Cerametallic woofers used for the primary active drivers. As used on premium Klipsch loudspeakers, including the high-end RF-7 III, Cerametallic woofers are light and stiff with minimal distortion characteristics. In C-Series subwoofers, the long-throw design allows for greater cone excursion to maximise the low-end extension. Then by marrying the active woofer with side-firing MDF passive radiators, the cabinet can remain small while still delivering more bass power than a typical equivalent model.
Both C-Series subwoofers are loaded with advanced technical features to fully customise the experience for any room type, source material, or placement.
CONTROL, CORRECTION, CONNECTION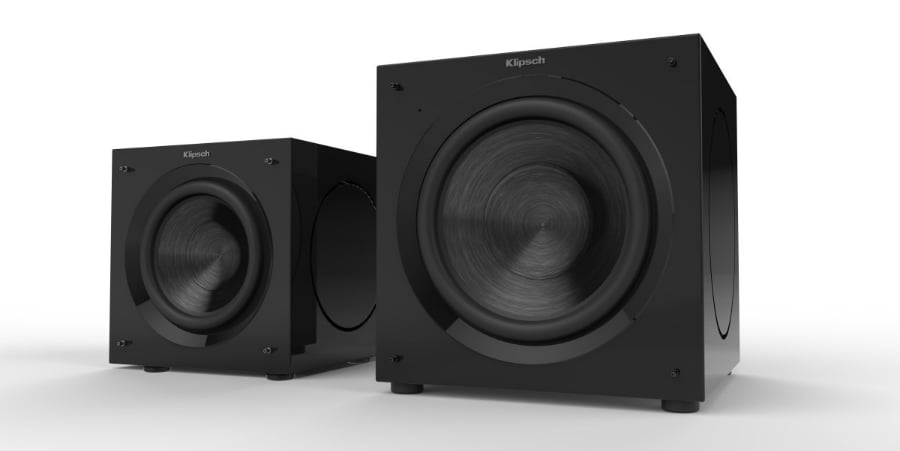 The free Klipsch LowControl App, which allows comprehensive control over input, volume, phase, high pass, and EQ customisation for fully-tuned sound environments.
Automatic room correction, using the LowControl App and your iOS/Android device's microphone to optimise the sound settings based on the room configuration and actual listening position.
Two-way IP Network control system drivers for Control4, Crestron, Savant and RTI installations, allowing for control over input selection, EQ presets, and gain control, along with device feedback.
Unbalanced RCA, Balanced XLR, Hi-Level, and wireless inputs, which can also be used simultaneously and level-mixed in the LowControl App for a myriad of source types and configurations.
Compatibility with the new Klipsch WA-3 wireless transmitter (sold separately, £200.00 SRP), allowing the subwoofer to sit away from the amplifier with no unsightly wires to stretch across the room. One WA-3 transmitter can deliver high-definition wireless audio to up-to three C- Series subwoofers.
The Klipsch C-Series ultra-compact subwoofers firmly bring Klipsch into the high-end subwoofer arena, whether you're a hi-fi enthusiast, a home-cinema nut or an installer looking to bring more low-end strength to your audio environment.
Still, with convenience at their core, they are incredibly powerful and versatile devices boasting the latest technical innovations from a compact chassis that has a luxury aesthetic appeal to complement its sophisticated internal workings.
PRICES
C-308ASWi has an SRP of £1,250.00, and the C-310ASWi an SRP of £1,500.00. Both come in a gloss black finish.
Visit Klipsch for more information.